Six months ago, Frances, a mother of four and grandmother of three, was working in the community sector as a cleaner. Whilst she loved her job, she wanted to better herself and secure employment opportunities for the future. That's when she stumbled across an advertisement on Facebook for a CHC33015 Certificate III in Individual Support (Ageing) Program with ET Australia.
To Frances, it looked like a great opportunity to gain a qualification that would not only enhance her skills at her current job but give her opportunities long term and keep her on the Central Coast, where she has called home since 1992.
 "I love it here, I have no intention of ever moving."
Frances grew up in Wee Waa, a small community about 40kms west of Narrabri known as the 'Cotton Capital of New South Wales'. She spent summers cotton chipping with her friends, getting up at 4am and working in the heat until the early afternoon, making sure to avoid the snakes. She loved the sense of community and it provided a distraction from the hardships of her home life.
Life for a young Frances was difficult. Her family were not well off financially, and she suffered through traumatic events that left her with both mental and physical scars.
 "We didn't have much growing up. Our house didn't even have carpet and I don't think we had a TV until I was a teenager – I had a tough childhood but you can't stop, you just try to do what you can do and try and better yourself."
As a teenager, she knew she wanted to get out of Wee Waa, even though she had made solid friendships within the community but she didn't know what she wanted to do or how to go about it. She even considered joining the army at one stage just to escape. There weren't a lot of options presenting themselves to her, and she felt totally isolated.
At 17, she became a mother and unfortunately lived through additional traumatic experiences which contributed even further to her isolation. At 19, she had her second child and remained in the Narrabri area until she decided to make the brave move, with her two kids to the Central Coast.
She was scared, she didn't know a single soul, but as soon as she got to the Coast she knew it was the right choice. Her determination and her ability to push through adversity gave her the motivation to keep on 'plugging away' and she was able to get a job as a gardener at a local public school.
During the 1994 bushfires, which affected a large part of NSW, Frances suffered a bout of heatstroke. She went to the doctor only to discover she actually had Fibromyalgia (a condition that causes widespread pain and tenderness in the body) and arthritis in her back.
 "I was told I would be in a wheelchair by the age of 45."
Frances wasn't about to let this stop her after everything she had been through to get where she was.
 "Bugger that I said – No way!"
She started exercising and changed anything that could potentially worsen her condition. This was an extremely tough road both mentally and physically, but she had made it through bigger and uglier situations many times before.
Now, Frances is almost ten years past the predicted "wheelchair years" and absolutely loving life.
 "I chose to focus on what I could control. I forgave a lot of things from my childhood, which took a long time, but it's in my heart to forgive. You just have to keep going. People often say that I'm a 'victim', but I don't see it that way. I am who I am today because of what I went through."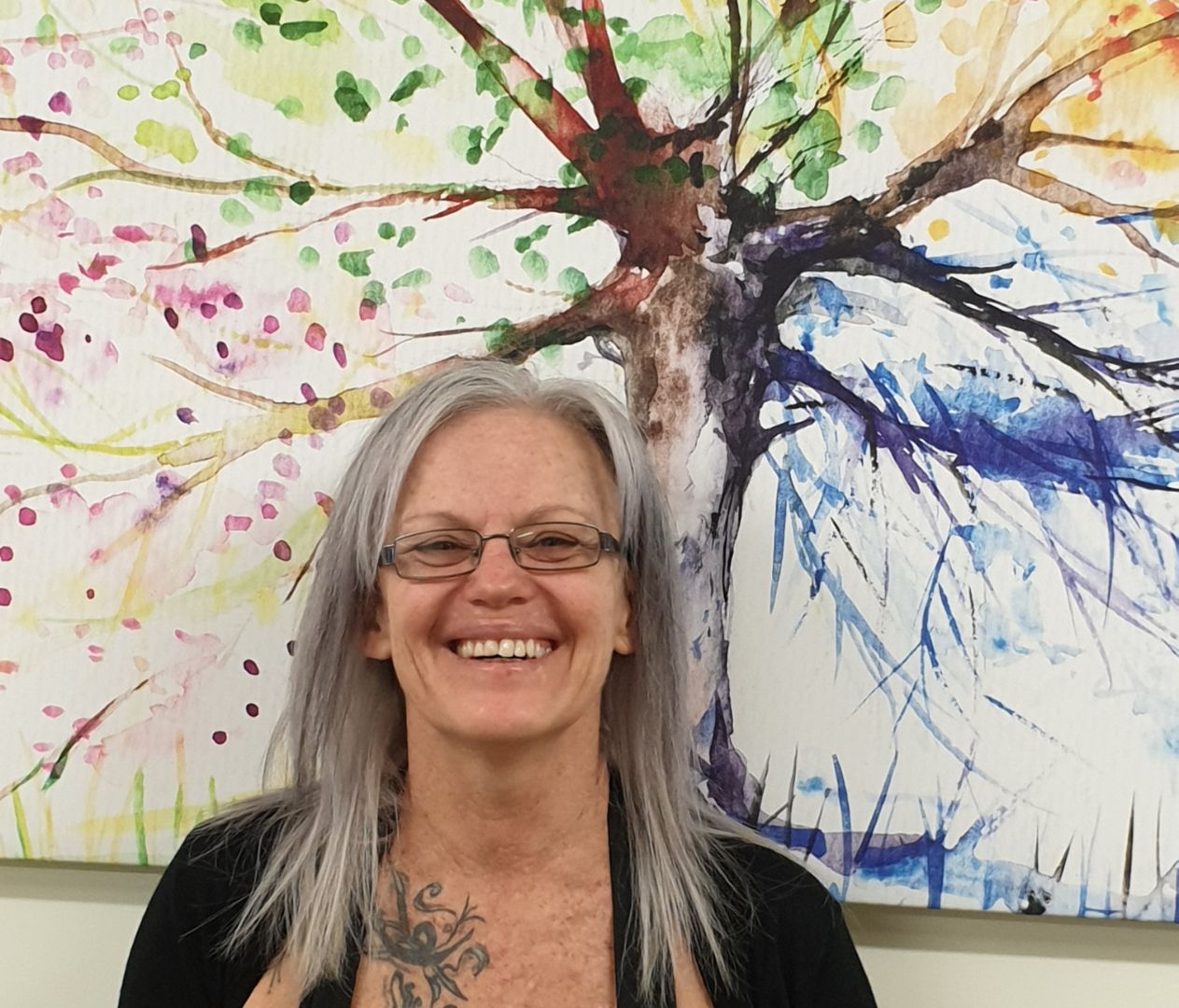 With her new found lease on life, Frances started looking to the future but didn't necessarily want to leave her current job.
 "When I started reading about the course, it just seemed to be the right fit for me at the time"
Frances attended an information session at ET Australia Gosford to find out more about the program. She was terrified, because she had not done any study since high school and her previous attempts to update her skills had not worked out for her. Because of this, she wanted to enrol with a Registered Training Organisation she knew would be able to support her in the classroom. She needed to know that she could say "I need help" and actually get it.
With her previous medical history, Frances was worried that she wouldn't be able to meet the physical demands of the industry, but after talking to the staff at ET Australia, realised that the work would be no more physical than her current role, which she handles very capably.
After the information session, Frances said everything just fell into place.
 "The smaller class sizes appealed to me because I knew the trainer would be able to give me the support I needed. Everything in the information session was ticking boxes for me, especially the supportive environment and approachable friendly trainer"
There was a time in the first half of the program that Frances started to doubt the decision she had made to take on study at this time in her life. Not only was she working at night and on days that she didn't need to attend the course, but her daughter-in-law gave birth eight weeks premature and Frances' heart was in two worlds. She wanted to be there to support her family.
 "If I didn't have the support from my trainer, I would have pulled out ten times over. I wouldn't have made it. It's not just the work, it's circumstances that took place throughout the course that set me off track. But Mary doesn't let you walk away. She's there for you emotionally, mentally, and physically. Everything is so positive."
After the first block of practical work placement in a facility, Frances came back to class with a fresh perspective and a solid determination to complete the program. Again, overcoming adversity and getting straight back on track.
 "This course was about bettering myself. It's the first time I've done something where I know it will benefit me for years to come.
 Future students need to be self-prepared, self-motivated and make sure they make time to do assessments. If you need help you have to utilize ET's support and the support of your trainer. It's there, you never have to question that. The course was amazing."
 "During work placement, I was able to make connections with residents who knew the same people I grew up with in my home town. I met a lady who would have been cotton chipping the same time as me! Aged care is my passion, it has set me up for the future"
When asked why people considering doing this qualification, should choose ET Australia, Frances said:
 "I've had friends who have studied with other providers that offer really short courses, and I can see that they aren't at the level I am at with my knowledge and skills. With ET Australia, you aren't getting a watered down or condensed version of the qualification. It's not a walk in the park because you are getting taught the proper way to do things – and that means that you know what you're doing when you're done. You are job ready"
 "I sat back yesterday and considered what I have learned over the last six months. I see students in the facilities from other providers who have been studying longer than I have, and they are standing on the sidelines watching me get in there and do it. It just confirms that Mary really has taught us the right way."
 "You couldn't ask for a better trainer than Mary. Mary is 'all that'. She's supportive, friendly, treats you like you've been in her life forever, and is like this with everyone. She's professional and considerate in her approach to each student."
 "ET Australia don't just push people aside, they don't let students get lost in the cracks and fall behind. Because of the extra support, students were able to keep up even with exceptional personal circumstances, at another RTO they couldn't have done that."
 We also asked Frances what advice she would give to someone considering doing this qualification with ET Australia:
 "Go for it! Know that the support will be there, even in the office. Just being able to ring them if there is an issue and getting to speak to someone is amazing. It's all so approachable and accessible. Even when you send an email, you get an email back straight away, it's crazy!"
 "Make the effort and the commitment to do this. I have fallen short in the past because of the lack of training and support, but now I've made my way through it. It was the right time, and the right RTO."
What was the most significant thing you learned from the program?
"Enabling and disabling people. Now that I am educated, I can see how certain things empower clients and how certain things disable them. If I hadn't of done this course I wouldn't have even realised that. I've changed things as simple as the way I wash my hands, everything is different because of this course. I've learnt the right way to do things. We should be empowering clients to keep their skills."
Frances went on to say that her newly gained skills have made her better at her job. Her boss has even commended her for the changes she has made or suggested and said that it has been a huge help in working out the needs of the clients.
"What I took in most was the empowerment and personal care given to the client. I learned that I can do more than what I thought. I've always known I have a lot to give but this course magnified that. I know I can do something now that I have never done before, even if I don't feel confident at first."
"This course has given me empowerment. Now I've got a real qualification and it's given me the confidence to study even more through work – I know I can do it now because I've done this."
Frances proved to be an exceptional student, and has now completed all thirteen competencies and required work placement hours. She will soon be awarded her qualification and we have no doubt that she will continue to be successful in everything she takes on from this point on.
RTO ID 90084