Age Discrimination, whilst illegal, is still apparent as an obstacle across certain industries for many older Australian's seeking employment or returning to the workforce today.
However, in our experience at ET Australia Training College, we have found that employers appreciate the stability and experience of hiring a mature aged employee and the benefits it can bring to their organisation.
Through feedback gained from the employers of our graduating students, older employees are very dedicated and loyal to their employer. Older Australian's have the benefit of life experience and can bring a level of maturity to the role that a younger person may not have had the opportunity to gain.
Whether it be for financial reasons, a change of scenery, the need to re-enter the workforce to support your family, or simply make a change you have been wanting to make for a long time, an increasing amount of older Australian's are considering upskilling to improve their chances of gaining employment.
Enquiries from potential students at ET Australia Training College, aged over 50, have highlighted the fact that their main concerns when it comes to undertaking study, are the employment prospects for them upon completion. Many have commented that they feel they are 'past their prime' in the eyes of employers and feel they would be overlooked for younger applicants simply due to their age.
At ET Australia Training College, students in the over 50's age bracket have enjoyed great success both during and after completing our programs.
As is the case with Joanne, who commenced a CHC33015 Certificate III in Individual Support (Ageing) program while in her early 60's. Joanne came out of retirement to re-enter the workforce and completed the program along with several other students of varying ages and backgrounds. After completion, she successfully gained employment with a local aged care facility and in her new role has been able to maintain a great work/life balance.
Audrey, an ET Australia Training College CHC33015 Certificate III in Individual Support (Ageing) graduate, also commenced the program in her early 60's. Whilst her main focus was employment, her personal circumstances greatly benefited from the skills she acquired during the program. Audrey successfully completed the program and was spoilt for choice when she was offered multiple positions upon receipt of her certificate. She ultimately chose a position with a large Australian company delivering home care services, aged care and retirement living on the Central Coast.
Since 2018 alone, just under 19% of the students who gained employment after completing full qualifications across Business, Aged Care and Early Childhood Education qualifications with ET Australia Training College (excluding traineeship programs), were aged 50 and over.
When interviewing potential students for our programs, we find that older students often haven't considered the transferable skills they have acquired during previous employment or through life experience in general. More often than not, older students have a clearer idea of their intentions for studying and the impact this will have on their lives, meaning they are more likely to keep themselves motivated during the course, they are able to prioritize tasks, have excellent time management and can successfully navigate challenges that often occur when learning a new skill.
We keep this in mind when selecting students for our programs, and currently, 16% of our enrolled students (excluding trainees) are over the age of 50, with just under 62% of these students aged 55 plus.
Mercy Bull, one of our current students, aged in her 60's says she feels the need to encourage other people her age to 'take the leap' when it comes to study.
She recently commented that she had seen people enquiring about our courses via the ET Australia Facebook page, asking if they were 'too old' to complete the program. "I wanted to get on there and tell them to go for it! If I can do it, they can do it!". Mercy is due to complete a CHC33015 Certificate III in Individual Support (Ageing) in June 2019 and since commencing, her confidence in her abilities has greatly increased. *Student prefers to go by her middle name.
ET Australia Training College also offers further support in addition to the quality training from industry experienced Trainers and Assessors. We have recognized the need to support students with resumes, cover letters, interview techniques including practice interviews, work placement in order to gain industry-relevant experience. ET Australia Training College access to employer networks with employers who regularly call to ask us for job-ready students to fill their employment vacancies.
As is the success of Gina, who features in our ET Australia Magazine (Issue 3, February 2019). A student who successfully completed a BSB30115 Certificate III in Business qualification, aged 50 plus with a disability.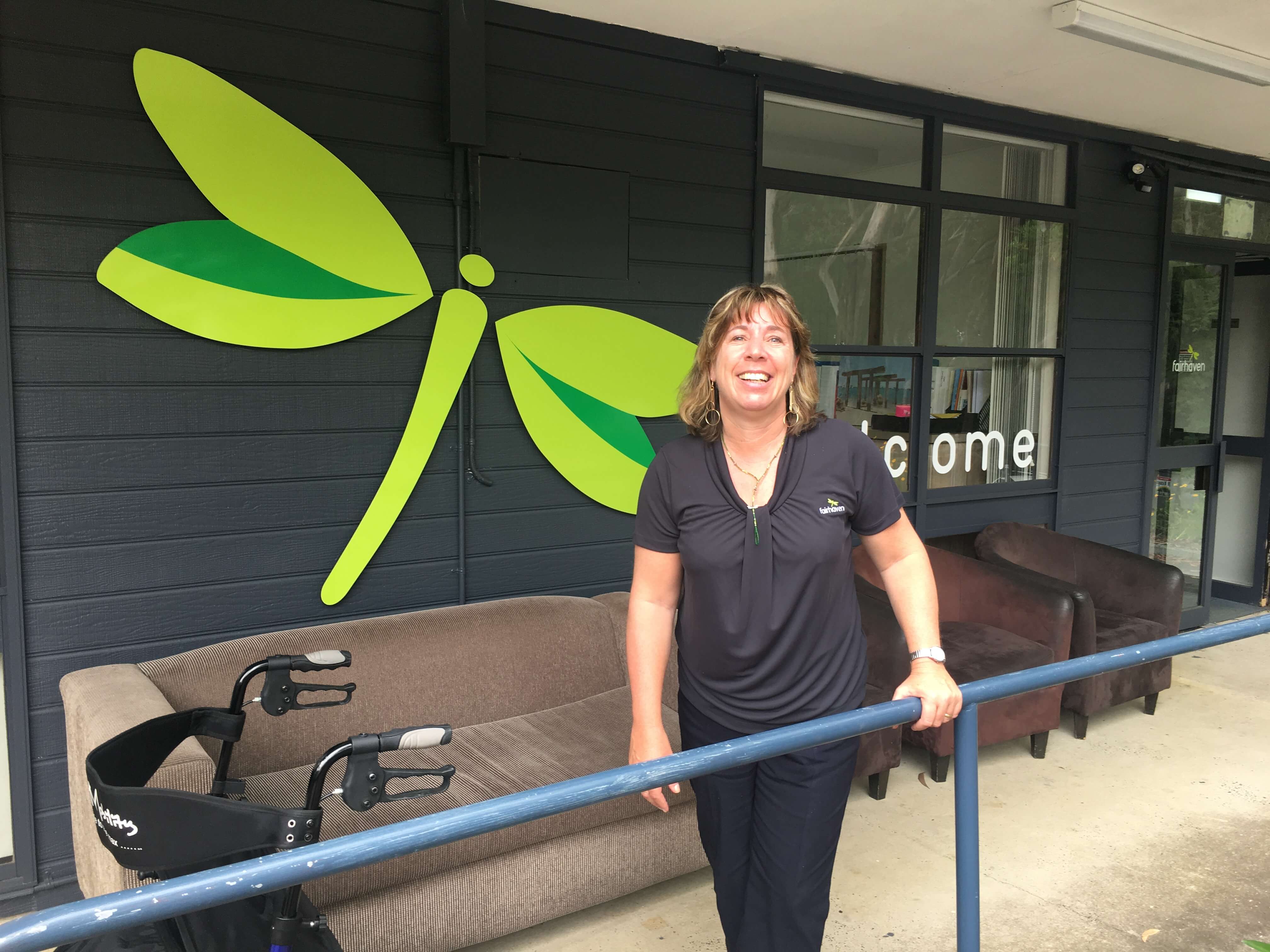 Gina now works as a receptionist at Fairhaven.
So whilst we all agree that it can be difficult to find employment when considered as a 'mature age' person, it is also equally true, that more and more employers are looking for reliability and experience which mature age workers can bring, as the quicker an employee becomes productive, the quicker the business can operate more successfully.
7 Tips for Finding Employment Over 50
Update your Skills
Recent qualifications will show that you have updated your knowledge of an industry, or show that you have gained recent skills in a new industry.
Make your resume 'ageless'
Adding your age or birth date to your resume gives an employer the opportunity to pass over your application due to your age. Let your skills do the talking and make sure your resume flows with information relevant to the industry you are applying for.
Cover Letters
Yes. You must write a cover letter for every application. Although this can be taxing to your time and patience, it is what will make the difference between your application and someone who is only relying on their resume. Cover Letters allow you to expand on your experience, address the specific criteria outlined in an advertisement for a position, and give you the opportunity to showcase your written communication skills. They are crucial in getting to the next phase of any application process.
Personal Presentation
This one is timeless. First impressions last, so make sure you are putting your best foot forward when you get the opportunity to meet an employer face to face. Professional attire, neat hair, nails and even body odour are all things to consider when going for an interview.
Know your Skills and Abilities
Many people don't realize they have a variety of skills gained through their previous employment, or even through their life experience. Work with what you have and treat them as assets. Some examples may be; time Management, Interpersonal skills, teamwork, personal motivation and initiative etc.
Familiarize yourself with current technology that may be involved in the industry
These days, it seems everything is computerized and the advances in technology are moving faster than we can all keep up with. If you haven't got the skills needed to do the basics in the industry you are looking for work in, educate yourself. There are many courses available in Basic Computers and ET Australia Training College offers one-on-one training also. See the ET Australia website for further details.
Be persistent
Don't give up if you get a few knockbacks or you aren't hearing back from businesses that you have applied to work for. An employer may receive hundreds of applications for one advertised position, and there simply isn't time to respond to them all. If you find you are constantly receiving rejection emails, look over your cover letters and resume and fine tune them. It also helps to have someone else look at it as they may be able to offer a perspective you have not considered.
RTO ID 90084